When you purchase a table saw it will no doubt come with its own rip fence and miter fence.
The rip fence to make it clear is the straight guide that runs parallel to the blade that can be adjusted left and right to rip a workpiece lengthwise. The miter fence is the guide that runs forward and backward in a machined slot in the table used for crosscutting.
Although these fences probably will be quite adequate to perform most carpentry tasks, unless you have purchased a top of the line table saw, the rip and miter fence may not provide the accuracy that is typically needed of a woodworker or furniture maker.
Miter Fence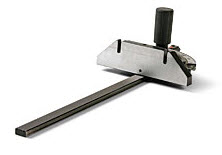 An adjustable miter fence slides in the slot within the tablesaw top. The miter fence shown is a typical piece of equipment that will come with any saw. It is used when cutting a workpiece anywhere from 45 to 90 degrees. The fence must run smoothly but should not be loose enough that it has play within the slot.
Another important aspect of the miter fence is the angle scale. A good model will have clearly marked angles and should be quite easily adjusted and set without any movement. It is always a good idea to test the actual angles with an angle gauge using some practice cuts when first using your miter fence to verify how accurate the marked angles are.
Rip Fence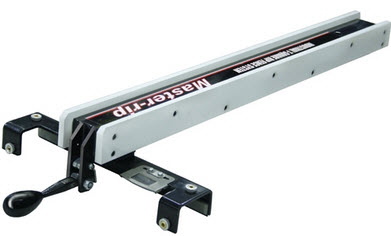 To guide a workpiece on a straight path, it is important that the rip fence be strong and not flexible at all. This is usually not an issue as even lower end fences are made of metal (albeit light) construction. Some fences are secured at both the front and the back of the saw, the important factor being that as long as it does not move at all once it is secured. Sometimes a poorly designed fence will move slightly as it is being secured.
Another issue with the saw fence is that it must be able to accommodate very fine adjustments. Along with that, the measurement guide must be very accurate with enough gradations for the user to properly adjust the cutting size. Lastly, the rip capacity (the largest distance between the saw blade and the rip fence) should be at least 24 inches if you intend to cut any 4x8 man-made sheets lengthwise in half, which would be the widest one would have to cut a sheet of that size.
Table Saw Fence System
A table saw fence system is typically also called an after market fence. It is an upgrade to your exiting table saw and using this means that you remove the miter and rip fences that came with the table saw and attach to it a completely new piece of sliding fence equipment that fits the table saw. (The first image at the top of the page is an after market fence system.) This new after market fence will greatly increase the performance of the saw by making it much more accurate, and much easier to adjust distances and angles.
There are of course, like any other product on the market, differences between these fence systems. They are manufactured by a number of companies such as Delta, Vega, Biesemeyer, and Incra. Different models fit different table saws so it is important to make sure that the one you purchase is the appropriate one. Some will install easily using your existing table saw hardware, whereas some will require you to drill holes in order for it to be attached.

Ultimately, short of having a blade issue, your table saw is only as accurate as the two fences attached to it. For many, the existing rip and miter fence that comes with the table saw will be adequate for their usage. For other woodworkers that require repeatable micro precision with their cutting, or just need to upgrade older equipment without buying a new saw, an after market fence system will be what they are after.