Miter Saws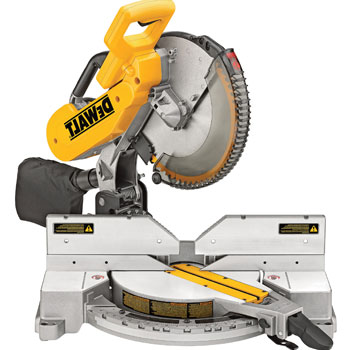 A miter saw is the perfect tool to make accurate crosscuts in wood stock. Sure, you can use a tablesaw to make most crosscuts as well, but a miter saw can do the job faster and more safely.
The most common uses of this saw are cutting soft lumber for carpentry and house framing. But furniture makers and woodworkings will often be using a miter saw to make precise and repetitive cuts for rails and stiles, and the cutting of molding for example.
Unless you have affixed your miter saw into position ( usually done to accommodate the frequent cutting of long pieces), one of the advantages of a miter saw is that it is a very portable machine. Even the largest of double bevel sliding compound miter saws weigh only about 50 lbs and can be carried with one hand because of the inherent design of the saw.
The other great advantage of the miter saw is its safety of use factor. The miter blade is pretty muxh contained within its guard and unlike a tablesaw, the guard does not need to be removed during use "because it keeps getting in the way". The blade is used in only small short bursts and the action of your hands don't bring them toward the saw either.