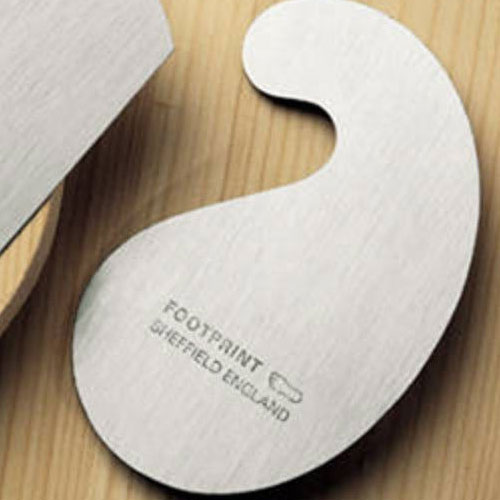 Although the rectangular shaped card scraper is much more common than curved models, every once in a while you might have to use that gooseneck or french curve card scraper. Or maybe you've bought a set of scrapers that came with a curved (or gooseneck) model but only used the regular scraper because you have a tough time getting them to work properly.
And while sharpening a straight edged cabinet or card scraper is not too difficult a task, getting a good edge on the curved gooseneck scraper can be difficult.
Besides a flat file that you usually would use for a regular scraper, you are going to need a round file to get to the concave edges of a curved scraper. Put the scraper in a vice and run the file over it to get a 90 degree edge all around the contour.
To put a burr onto the scraper, you can use the regular method of burnishing a scraper by putting the scraper in a vise and running a burnisher held parallel over the entire edge contour. The only downside to this is that you will be constantly re-positioning the curved scraper in the vise. It will be difficult to achieve consistency in the burr this way.
Another technique to burr a curved cabinet scraper is to use a drill press. Instead of clamping the card scraper into a vise and running the burnishing tool over the scraper, you'll be securing a drill bit, which will act as the burnisher and pushing against it with the scraper in your hands.
Unfortunately, the video I had linked has been removed by Youtube, so I will have to explain it here. The basic premise is to put a large drill bit into the quill. You are going to be using the flat top part of the drill bit that does not have any fluting in it. Tilt the drill press table at a slight angle (about 5 degrees). Position a block of wood by clamping, screwing, or putting double sided tape in front of the drill bit.
The purpose of the block is to be able to rotate the scraper much more easily than if it were on the table itself. Lower the drill bit into place, turn it on and push the curved scraper into the flat top of the bit. Since the table is at an angle, you'll need to flip the scraper over to burr the other side.
I have not located another video demonstrating the drill press sharpening method so I have included two videos showing a more tradiotional way of sharpening a curved cabinet scraper.