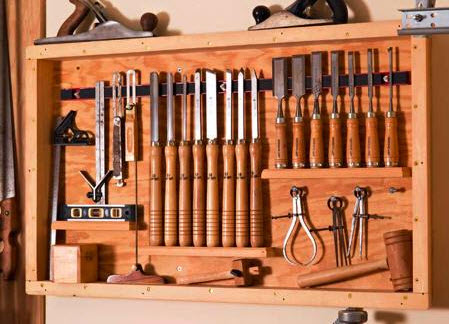 Whether by enjoyment or by necessity, there are just some wood working tasks you will have to complete by hand. So despite the ease of use of power tools, owning some hand tools for woodworking will be necessary.
Of course woodworking encompasses a wide variety specialized jobs, so it is difficult to pin down an essential list that will apply to everyone. Remember as well that there is a difference between woodworking and carpentry and so the tools that are most commonly used will be different as well.
Woodworking is typically associated with furniture making of some kind whereas carpentry is associated with building larger items such as building structures for example. Of course there is some overlap as we can talk about trim and finish carpenters.
That being said, this woodworking hand tool list for the modern woodworker (meaning that he/she will primarily be using power tools whenever possible) and so this article will focus on the more detailed art of the furniture making aspect of woodworking.
Marking & Measuring
Before you start cutting anything, you'll need to measure and mark your wood pieces. Besides the usual tape measure, pencil and utility knife, you'll want to have a few extra handy tools around to help you make accurate cuts.
Wheel Marking Gauge: Used for marking fine lines parallel with an edge of a workpiece. Better than the traditional 'pin' marking gauge as it can mark across the grain of wood without tear.
Bevel Gauge: A sliding bevel can be used for marking or checking any angle. The knob secures the angle once you have set it. Transferring angles to other pieces is easy with this tool as there is no need to fuss with numbers that may introduce errors. Although it can technically be used for measuring 90 degree angles as well, there are better tools for that.
Square: A must have tool for measuring right angles. It is most important that this tool be of good quality and exactly 90 degrees, as it will affect every single woodworking project you attempt. A smaller engineers square, usually six inches long, is also important to have to help set up power tools to perfect accuracy.
Saws
Backsaw Saw: There are various kinds of backsaws, and they are all used for fine cutting. They have relatively small teeth for trimming lengths of wood to size or for cutting woodworking joints. They all have a strip of metal folded over the top of the blade to keep the saw blade rigid.
Chisels & Gouges
A set of chisels and basic gouges are essential for every woodworker. They are mostly used for the removal of waste from joints.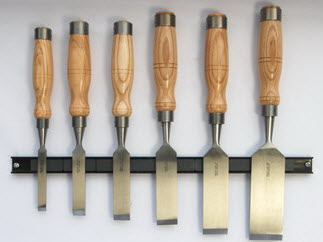 1/8, 1/4, 3/8, 1/2, & 1 Inch Bench (Firmer) Chisels: These are the shop workhorses and the sizes I reach for time and again. They should be sharpened for general use in the 30 degree bevel area.
Mallet: A wooden mallet is required (as opposed to a hammer) primarily to drive chisels. A soft mallet, made from rubber or plastic is also nice to softly knock pieces together when needed.

Cabinet Scraper: A simple piece of tempered steel used to scrape a thin shaving of wood instead of aggressive sanding. Also important to have to remove excess dried glue that may have gotten on a workpiece before the finish is applied.

Some might think an obvious omission from this list would be the hand plane. For traditional woodworkers the plane was one of the most important tools. However, with the electric powered stationary planer, a hand plane is no longer a necessity in the workshop. Between an (electric) planer, table saw, and cabinet scraper, one need hardly ever reach for a hand plane.
The tools mentioned above are only a short listing of tools that a woodworker should have in his arsenal. Of course there are many other hand tools that a woodworker can acquire such as an assortment of clamps and screw drivers to name only a few.