Hand Tools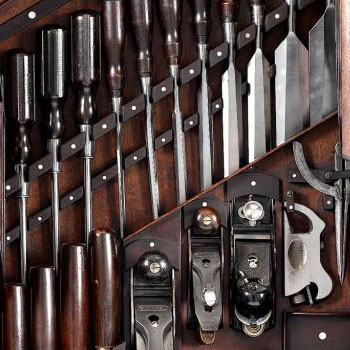 Before there were engines and motors, almost all tools were hand powered tools. Nowadays, pretty much all hand tools can be replaced by their electrical powered cousins. Not even the carving chisel has been immune as CNC machines coupled with the right software can produce magnificent three dimensional carvings.
Nevertheless, a good hand saw will never go out of style in the work shop. And for some reason, some woodworkers have a borderline obsession with their hand planes.
Some tools have really been permanently replaced for good though. No one will reasonably ever use a hand powered drill anymore, unless absolutely necessary. With the advent of battery powered tools, many hand tools will remain obsolete.
Usage of Hand Tools
Despite all the power tools you can buy however, most workshops will continue to need to have some hand tools on hand (pun, sorry). Sometimes, a power tool is just too strong or too fast for that delicate woodworking operation.
From the ordinary screwdriver, to the previously mentioned chisels, hand saws, and hand planes, some woodworking will often require a more gentle touch to make it just right.