Circular Saws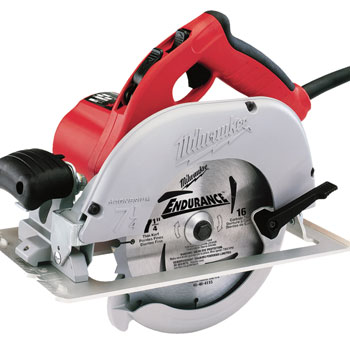 Mostly used in carpentry work, the circular saw is a workhorse of the jobsite. Although by itself it doesn't provide you with the perfect cuts used in traditional woodworking, used with the appropriate guide, it can do a pretty good job.
Oftentimes the circular saw is used to rough cut longer pieces that would be difficult to fit onto the tablesaw.
In reality, a circular saw is almost the same as a tablesaw, its just missing the table. Like a router, without the table. And so, instead of pushing the workpiece through the blade, you secure the workpiece and push the circular saw blade through it instead.
Circular saw sizes are usually classified by the blade diameter. Sizes of 5-1/2 to 7-1/4 inches are the most common. These sizes are good for cutting 3/4 inch plywood for example. Smaller diameter saws exist, those being used primarily for cutting lighter pieces of wood trim, molding, plywood and lumber not thicker than about 1/2 inch.