Woodworking Tools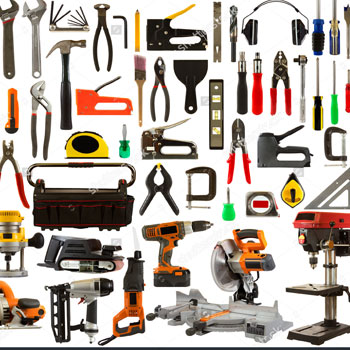 Woodworking tools are a very diverse bunch. In today's market, you can find a specialized tool for almost any task.
Just look at any tool catalog and you will be amazed at the variety of tools listed, most of which if they didn't have a description, you would have a hard time figuring out what it does. However, most shops use mostly the same set of basic tools.
High Quality Tools
Always buy the best tools that you can afford. One of the biggest mistakes of a beginning woodworker is to purchase inexpensive or cheap tools. There is usually a reason why two chisels that look similar are radically different in price for example.
The cheaper chisel is probably made with a poor quality steel that will not hold its edge (stay sharp) as long as the other. As a result, you will have a more difficult time in achieving the results you desire. With a good quality tool, you will be more a more efficient and safer wood worker.
Buying Tools
Finding a good high quality tool takes research. Do your homework before you buy and find out what traits are important for that specific tool. Usually, there will be a manufacturer that excels in making that type of tool. Read through their material and see what makes their product better than their competitor.
Go through tool catalogs to get an idea of the pricing for what you are looking for. Most catalogs are free and they will be very handy to have around. Look through them periodically, there may be a time when you need to purchase a tool quickly, and knowing specifications and prices will help you from making a poor choice.
Lastly, it is a general rule that tools that perform a specific function are of better quality than a multi-purpose tool.