Woodworking Techniques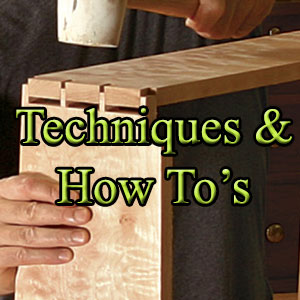 So you have a bunch of woodworking tools, well you better know how to use them properly otherwise you'll be spending plenty of extra cash on buying more wood stock or buying extra tools that you don't really need. That's the good thing about most woodworking tools, is that they can be very versatile in the right hands. You just need to know how to use the proper techniques to get the job done.
Woodworking Skills Are Learned
That's the other good thing about woodworking, anyone can learn the skills to build stuff. Power tools have simplified the process of cutting the wood, so that now most of the work that is done is measuring, setting up the blades, and pushing the wood through. All you have to do is figure out how to set up the machine, or position and clamp that piece of wood safely, and you'll be able to build that dream project.
So technically, I wouldn't call it a skill, it's more like knowledge. Something you learn, not something you are born with. The articles in the section will help you figure what tools you need to get the desired results you want to achieve.
Basic & Advanced Woodworking
Sure you can learn advanced woodworking techniques, but first you need to learn the basics. Usually the basics involve learning to measure very accurately, and how to not get your fingers cut. Simple beginner projects usually involve softer ( and easier to work with ) woods. Fancier projects might require harder ('exotic') woods that have attributes like strong grain patterns that need to be paid attention to.
That's where the advanced skills and experience come into play. Not only do you need to set up the tools properly, you need to understand that wood is a natural material that has grain direction, and that it will move with humidity, and how this will affect your final project when it is all glued together. It can get complicated pretty quickly sometimes, hence why I created this site.
Specialization
Besides the regular woodworking how-to articles in this section, you will also find information about specialized woodworking techniques such as finishing, wood turning, and veneering. These, and other particular woodworking techniques require special tools and knowledge, that will help give your project that extra flair.