Adhesives & Glues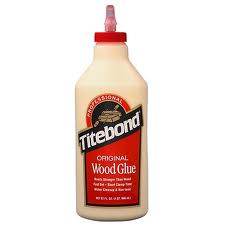 Unless you enjoy making really complicated wood joinery and using lots of nails and screws, you will need to buy some wood glue to assemble the job. Fortunately, there are a whole range of glue types to fit your specific need. Unfortunately, there are so many glues on the market, it may be difficult to choose the best one.
Technically, there is a difference between an 'adhesive' and a 'glue'. Glues are based on polymers, for example protein or starch that are derived from natural sources. Hide glue, derived from cattle hides is a true glue. Adhesives are based on chemically synthesized polymers. White and yellow PVA glues are actually adhesives. Generally, most people do not make a distinction between the two.
Don't take glue for granted!
Don't wait till a job is ruined to find out that you could have used a different type of glue for that assembly. Choosing the proper glue for the job is extremely important and yet compared to choosing tools and machines, woodworkers know relatively little about glue.
Your glue needs to give you time for proper assembly before drying. Your glue must not conflict with the finish you will be applying to your woodwork. Finally, your glue needs to hold up for years onced it is delivered to the client, under whatever conditions it may encounter (ie. moisture).
Glue Safety
Many woodworkers treat glue casually. Todays glues are a a true conconction of chemicals. Always take care when handling glue; wear eye protection and gloves with non water based glues to minimize the contact.