Woodworking Materials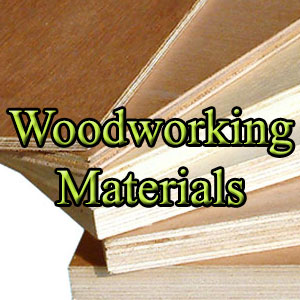 It used to be that wood came in three varieties, softwood and hardwood, and plywood. The world is more complex now, for better or worse, and woodworkers have an almost endless supply of different materials to work with and enhance their projects with.
From all kinds of processed wood boards, to purely synthetic materials, this increased choice of woodworking materials comes at a price of learning how to incorporate them into your woodworking project properly.
Not to mention the wood itself. With more species available to us to work with, if we want to venture out and use an exotic wood type, we need to understand its properties so that we can incorporate it into the project properly, from how it will move with humidity, to how it well it will accept a finish.
But sometimes as a woodworker, you just need something that is, well...er, not wood. Maybe what you need has to be more stable than wood, and so you have a choice between plywood, particle board and MDF among others. And of course, when it comes to connecting two pieces of wood together, you'll need some hardware and/or glue.
So let's explore the range of woodworking material possibilities and make our project that much better.