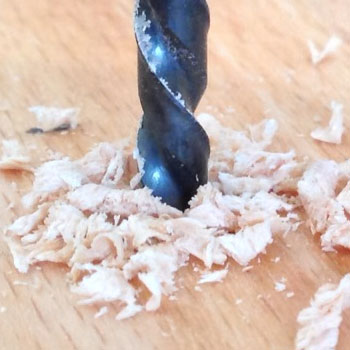 Its easy to drill a hole at a perfect 90 degree angle when you have a drill press, but for those of you who don't have a drill press, you can use a drill jig guide. Even for those woodworkers who do have a drill press, sometimes you just can't get your piece into proper position for whatever reason, a drill guide for a hand held drill may come in handy.
A drill guide fits over your hand held drill and lets you drill at a perfect right angle. When you are pre-drilling a screw for hardware, it is not usually necessary for it to be at a perfect angle, you can usually eyeball it. But if you need to drill a hole for inserting a dowel, or making a recess with a forstner bit, you need that hole to be as accurate as possible. Below you can see a few versions of a drill guide.
---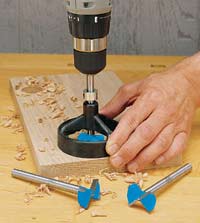 The first, from Rockler Hardware is designed to be used with long shank (to give you the height needed to clear the jig) forstener bits. It is easy to set up, and does its job very well.
It only drills at 90 degree angles however. It costs about $18 dollars.
(The same jig is sold from Amazon now as well so you can check see which is cheaper with shipping...)
---
Another 90 degree only drill guide is made by Lee Valley. It comes with four bushings with sizes of 3/16, 1/4, 5/16, and 3/8 inches.
This particular model guide is best suited to be used on dowels and cylindrical wood stock.
As an added feature, it is the only jig that enables you to easily drill a hole on the corner edge of a board. Listed price is about $25.
There is also a very similar model sold at Woodcraft
or Rockler at a comparable price. The only difference is that is it clear, which lets you see exactly where you are drilling, which to me makes a lot more sense.
---
There is also a more robust and versatile drill guide sold by Amazon. This one offers the ability to use a wider range of drill bits, up to 2 1/4 inches in diameter. Here's a link to the manual for more details. It also is adjustable in angle to 45 degrees.
As you can see, you can put many different sorts of bits in the chuck from 0-3/8", not only forstener bits.
In addition, it is adjustable, so that you can drill at any angle between 45 and 90 degrees. The depth stop lets you drill to a premeasured depth every time.
As well, (although I have not used this feature), you can drill round stock by using the V guides it comes with.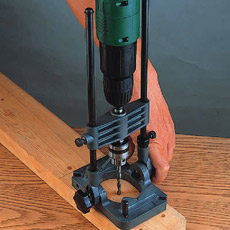 Are the added features worth the extra cost? Well, if you don't have a drill press, definitely, especially if you don't have room for a dedicated drill press in your workshop.
The main benefit is that these drill guides are portable. If you are on the job site, or if you have glued up your project already and forgot to pre-drill the pieces on the drill press, and accuracy is very important, then a drill guide is a worthwhile piece of woodworking equipment to have.
Overall, these are versatile jigs that let you replace a drill press for mostly out of the shop tasks or for larger pieces that won't fit under the drill press. Obviously they will not be as sturdy or accurate as a real drill press, so keep that in mind when designing a project.