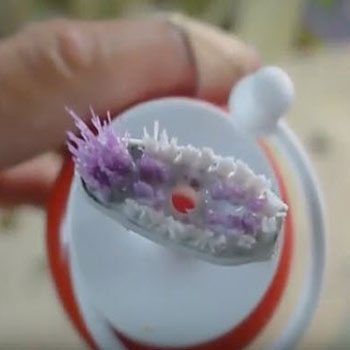 Here's a neat little wood glue dispenser idea, that does away with having to alternate hands of squeezing a glue bottle and then brushing. Here are the steps:
1) you'll need a typical restaurant ketchup bottle dispenser and a large tooth brush.
2) Cut off the handle from the brush
3) Drill a hole in the center of the brush head that is about the same size as the dispenser nozzle.
4) Push the brush head onto the spout of the bottle so that the brush head should be able to stay on with a bit of pressure.
It does quick work of spreading glue onto smaller and medium size pieces.
Very easy to clean up as well. Just take the brush head off, and drop it into some water and put the lid on the bottle.
Here is the original video that the idea came from. It is in french, although you can quite easily see exactly how this glue dispenser is built. (I tested out the auto-translated subtitles and they are not coherent at all, pretty funny actually.) So for those of you who don't know french, just watch the video and you will easily see how to build this.
There are two things I especially like about this design, one is that it is super easy to clean the brush head by just removing it and droppping into water to get the glue off. The second, is that the bottle cap comes attached so you can't lose it.