Outsourcing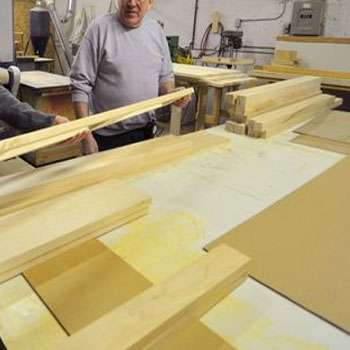 Whether you are just starting out, or own an established woodworking business, there will come a point in time when you will have to decide if it is better to build certain parts yourself, or to subcontract them out.
Outsourcing Cabinet Components
If you are just starting out in cabinetmaking, I recommend that you buy your cabinet components; doors and drawers for example, from a subcontractor that specializes in building those items.
You will probably not have all the equipment necessary to build a quality door or drawer, or else it will just not be efficient given the amount of time you will be taking.
I understand that there may be a craftsman ego factor involved where you have the desire to build everything yourself from scratch. Most woodworkers have this desire when first starting out, to build every component from start to finish.
The world of cabinetmaking has become very specialized in recent years. This is due mainly to the advent of many new woodworking machines on the market. Technology is a great thing, but it has forced the market to become more niche oriented.
Woodworking shops are evolving into manufacturers of specific wood products, this is especially so for cabinet components like doors and drawers.
If you are trying to make money by being a woodworker or cabinetmaker, especially if you are new, focus on those skills that you are good at and outsource the rest of the components. Take advantage of these specialized companies, they are there to help you. Perhaps you will not make as much profit, but you will finish the job much faster, allowing you to work on the next contract.