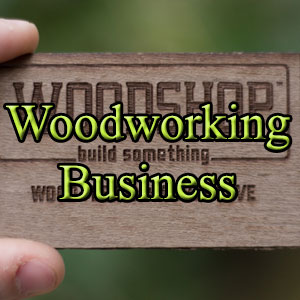 The marketing and advertising of a woodworking business is sometimes a difficult task for a new business start up. For the most part, people start a woodworking business because they know how to work with wood. They do not necessarily have the skills to market their product however.
Generally woodworking businesses operate on word of mouth advertising and other traditional media. If your services and skills are adequate enough to satisfy a few customers, you will find that they will more often than not recommend your business to others. A good rule of thumb about word of mouth advertising however is to remind your customers that you are still around.
Word of mouth advertising is the best advertising you can have because it is free, but most of all because the trust factor of a new potential customer is alleviated. One of the scariest factors for a potential client especially when hiring a woodworking contractor is the knowledge that they can trust the company they are hiring. Often times, as a woodworker or cabinet maker you will be working inside of a customer's home doing an installation. They need to be able to trust someone coming into their house.
Building on that, a good marketing technique to increase the number of potential customers is to send out a postcard or letter to past clients. It is much easier to get a repeat client than to go after a new client. Writing a reactivation letter as it is called is especially a good idea when the economy is slow. Take the time to either write a letter thanking them for their business, and maybe letting them know of some improvements that they might want to add their home etc.
Other traditional media that do well for a new woodworking business is to use the standard yellow pages. Take a look at your local yellow pages and see how many woodworking companies are listed. The biggest hurdle however to a yellow page ad is that when a potential customer looks through the yellow pages and sees a big list of companies to choose from, it is difficult to know which one to choose because he doesn't know which one is trustworthy or not.
**(Update - Although it may still be worthwhile to run your ad in the Yellow pages, it is probably more important at this point to get your business listed as a local company on Google Business Listing and on Google Maps. )
Another component of marketing your woodworking business is to run ads in the classified section of your local newspaper. The most important thing about classified ads is that you must be consistent. There are people who look through the ads every week just to see whats there although they don't need any services at that time. If you are there every week, your ad will become ingrained into those peoples minds in the sense that when they do need some work done, or know someone that does, they might not remember your company name, but they will remember that they have see an ad for a company that does woodworking and that is when they will look for your ad and call you.
It also fits well with a yellow pages campaign because when they see your name in the yellow pages and they have seen your ad in the local newspaper, it acts like a trust building relationship and they are more apt to call you because they seem to remember you as opposed to someone else that they have never heard of before.
Another low cost method of advertising, especially if you are a new business with a low marketing budget is the use of bulletin boards. Take the time to locate bulletin boards around your neighborhood such as in the grocery store. You can then put up some business cards and a good sized quality picture of some of your work. Again, the main purpose here is to build trust with your potential customers. Showing them with a picture is a great way to do that.
This leads me to the point that marketing is a synergistic affair. The more your name is out there, the more trust your company name has. Good marketing takes time to start to work well. So the most important thing is to be consistent and to advertise in as many places as possible.